These clips are not Animated.














These images can be saved from this page.



























Please feel free to download any of the clipart to your hard drive. To do this, double click on the thumbnail image to see the full size version. Right click on the image and "save picture" or "save image". Download to your hard drive. Please do not link to my image on this site.

Please add my button to your site, so that others may find what they are looking for too!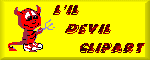 All clipart, images and graphics found on this site are public domain unless otherwise noted. Should you find anything on this site that you believe to be otherwise, please notify me immediately and the image will be removed or appropriate credit will be given.

Please visit me at my other site, Clybella's Castle for an inspirational visit with Angels and Faeries.



HOME
Fantasy
Flowers
Animals & Birds
Photographs
Toon Characters
Celebrations
Icons & Objects
Bars and Dividers
Christmas
Religious
Banner Exchange
WebRings